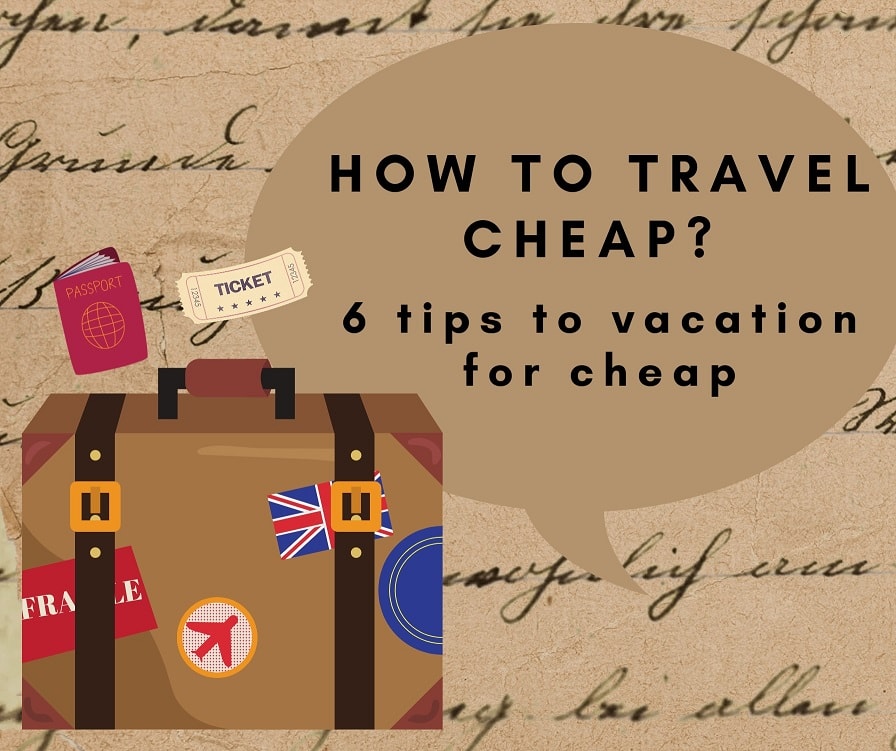 In this article, I will give the best tips for budget travel. Read them and travel on a budget!
1. Selection of a vacation destination
Budget travelers do calculations even before choosing a travel destination.
First you need to find out what the budget for the trip is.
How much money is saved and when will the next money be added to the account?
How much can the trip cost so that the money is enough to live even after the trip?
When the travel budget is clear, it's time to think about the price level of the travel destinations that interest you.
If you travel during the off-season, budget travel can of course also be successful in those slightly more expensive holiday destinations.
Also think about whether it is possible to earn money or do volunteer work during the trip.
Many Finns have spent long periods in Australia with the Working Holiday visa.
For example, through wwoof.net, you can find free hosting and maintenance for a few hours of work. In this way, a budget traveler can travel to, for example, Fiji, Iran or South Korea.
The more information you get about the destination, the better. Let's imagine that you are traveling to the Maldives: then you should start from the address Vacationtomaldives.com.
2. Tendering of flights and accommodation options
Do you want to get cheap flights? You should start searching well in advance. My favorite websites for comparing flight prices are Momondo and Travellink.
Low-budget flights usually have 1-3 stopovers, so even a relatively short trip can take a whole day.
For example, a trip to Uganda a couple of years ago took 36 hours one way – and the malaria that plagued us on the way back didn't make the trip any easier.
Low-cost airlines may not provide meals, so be prepared with your own snacks.
Try to travel with hand luggage only, because nowadays it is common to have to pay separately for a bag that goes into the hold.
Traveling is also smoother when there is only enough stuff for a 6-8 kilo backpack.
Yes, with that amount you can get by in a week in the mountains of Colombia, in the rainforests of Borneo, or at any beach destination (we have experience!).
Momondo and Booking.com are also suitable for price comparison of accommodation options.
Through these sites, you can also find modest Traveler's Homes and bed and breakfasts.
They are very suitable for those traveling on a small budget.
For example, in Bangkok you can find a place to stay for less than 10 euros, if you don't need air conditioning, your own bathroom, soundproofing and individually packed earplugs.
Hotels.com is great for price comparison of slightly better hotels (and every 11th night is free).
Sometimes you get a good sudden start. You should follow their offer on the Rantapallo website.
3. Using public transport instead of taxis
Find out in advance whether you can get from the airport to your accommodation by public transport. You can also fit in a rush hour bus with only hand luggage.
When you prefer public transport to move from one place to another, you can travel with as little budget as possible and even more ecologically.
You also save time by choosing the subway or a bus that drives in its own lane instead of a taxi.
If you need a taxi, check if Uber operates in the area. Through Uber, for example, in Tanzania, you can also order a rickshaw that is cheaper than a car.
In Bali, a similar app is Grab. In addition to a moped ride, you can use the app to order, for example, home delivery of food.
4. Selection of activities at the destination
Excursions, courses and other activities ordered through Finnish travel agencies can cost many times more than what you would get them at on the spot.
Compare prices online and on site, and you will find the cheapest surfing or, for example, cooking course.
If tinkering is part of the culture, feel free to negotiate lower list prices.
Keep your eyes and ears open for free events too!
Tip: You may also find cheap activities on GetYourGuide.
5. Eating on a budget
If the accommodation has the option to cook for yourself, it might be cheaper than eating out.
However, it is possible to get semi-free and very tasty street food on site.
Food stalls lined with plastic chairs and tables are favorites of budget travelers. If there are also locals shopping at the stall, you know the food is good.
In over 15 years, I've only gotten two food poisonings from street food.
The second was due to the vague mykeres I ordered from the street in Gambia (to this day I don't know if they were products of the animal or plant kingdom).
The second time I got an upset stomach after ordering an ice cream cone from a stall in Turkey, which left a lot to be desired in terms of food hygiene.
6. Remember travel insurance!
Remember to take out travel insurance in case you need to see a doctor or need hospital treatment. Travel insurance can save you a pretty penny.
Compare travel insurance prices.
I have noticed that continuous travel insurance is almost always cheaper than single trip insurance.
When traveling in Europe, you should carry a European medical card.
Also check the vaccinations you need on the trip in advance so that you don't have to take, for example, the yellow fever vaccine at the destination country's airport.